The Rixt Crochet Mesh Top Pattern is a written
pattern and video tutorial to crochet a Long-sleeved mesh top.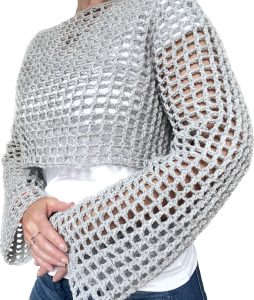 Do not be put off by how difficult this crochet mesh top looks to make.
The top is worked in raglan style from the top down it really is an EASY Crochet Top Pattern.
I aim to bring crochet Patterns that are easy to understand. My patterns are supported by a video tutorial. You can purchase the pattern in my shop: Fishnet jumper Rixt
The great thing about this sweater pattern is that it is crocheted from top to bottom. This makes it very easy to adjust for larger sizes, a crop top or, if you wish, a long sweater.
One of the many reasons The open mesh crochet stitch has become so popular is the ability to create unique and stylish garments, such as crochet mesh tops with or without sleeves, full-length or crop tops.
The Mesh crochet top with long sleeves is apparently THE hottest thing on TikTok just now. So my teenage daughter told me.